The UK must "face the possibility" that it will not agree a deal on its future relationship with the EU by the end of the year.
Chief negotiator David Frost said that with less than six months to go until the end of the Brexit transition period, the UK must "continue preparing for all possible scenarios" for once that deadline passes.
His EU counterpart, Michel Barnier, said an agreement "at this point" is "unlikely".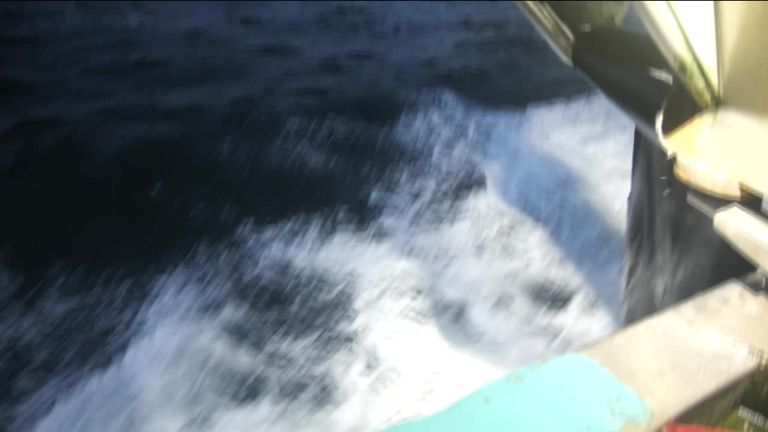 The assessments came after the conclusion of the latest round of talks in London.
Mr Frost said in a statement that "considerable gaps remain in the most difficult areas" – the so-called level playing field and fisheries.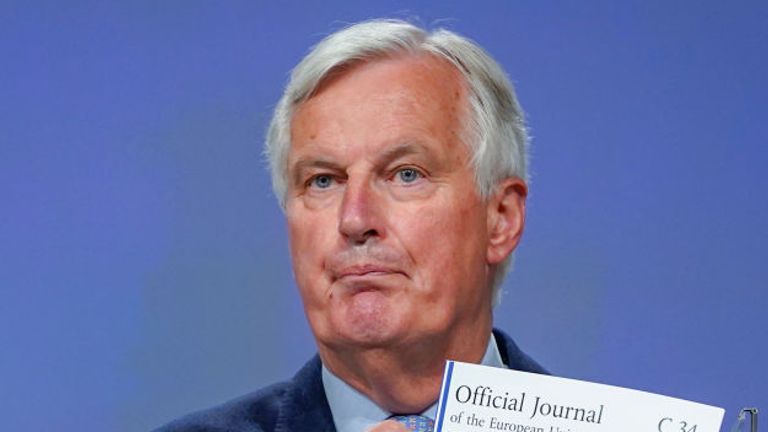 "We have always been clear that our principles in these areas are not simple negotiating positions but expressions of the reality that we will be a fully independent country at the end of the transition period," he said.
"That is why we continue to look for a deal with, at its core, a free trade agreement similar to the one the EU already has with Canada – that is, an agreement based on existing precedents.
"We remain unclear why this is so difficult for the EU, but we will continue to negotiate with this in mind."
But he said "despite all the difficulties" he still thought a deal could be reached in September.
:: Listen to Sophy Ridge on Sunday on Apple podcasts, Google podcasts, Spotify, Spreaker
"We will keep working hard to bridge the gaps and find a way through," Mr Frost added.
EU negotiator Michel Barnier said the UK's current stances on a number of issues mean a deal at this point is "unlikely".
He highlighted in particular London's demands on fisheries, telling a news conference: "The UK is effectively seeking for near-total exclusion of fishing vessels from the UK's water. That is simply unacceptable."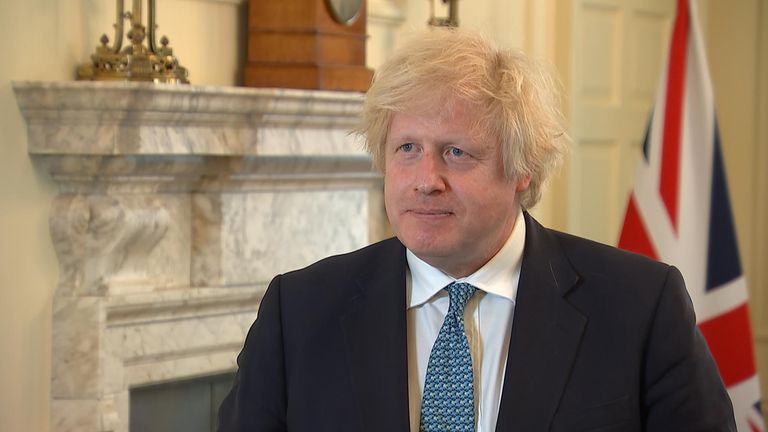 Mr Barnier accused the UK of not displaying a "willingness to break the deadlock" and claimed it has "not shown the same level of engagement and readiness to find solutions respecting the EU fundamental principles and interests".
He said the "time for answers is quickly running out", adding: "If we do not reach an agreement on our future partnership there will be more friction."
Britain left the EU at the end of January after 47 years of membership and is currently in an 11-month transition period, which sees it continue to follow the bloc's rules and regulations.
This time frame is being used to negotiate a free trade agreement and sort out the terms of the future relationship that will govern ties between the UK and the EU in the future.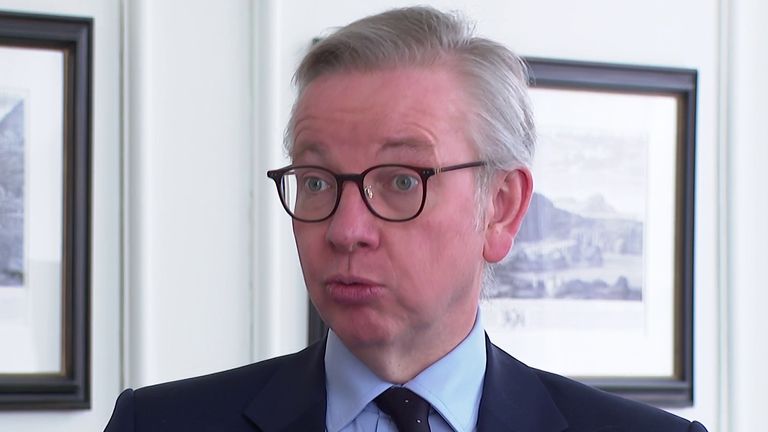 Prime Minister Boris Johnson has formally told the EU that he will not extend the transition period beyond the end of this year, despite warnings that disruption caused by the coronavirus pandemic has made striking a deal impossible.
If the transition ends without a deal being struck, the UK will likely have to trade with the EU on World Trade Organisation terms from next year.
Mr Barnier said the two sides had until October "at the latest" to come to a deal or risk the imposition of quotas and tariffs.
"If we want to avoid this additional friction we must come to an agreement in October at the latest so that our new treaty can enter into force on 1 January next year," he said.
"This means that we only a few weeks left and that we should not waste it."
Analysis: Rhetoric aside, progress is being made
By Adam Parsons, Europe correspondent
Michel Barnier and David Frost are serious negotiators, ever-keen to downplay progress until a deal is actually done. No surprise, then, that they both sounded gloomy today.
But actually, there are reasons to think that, away from the rhetoric, progress is being made. Once we had four or five sticking points – now there seem to be just two.
They are the so-called "level playing field" and fishing.
The first revolves around state aid and competition rules, which Westminster thinks is a sovereign right for a nation that has left the EU but Brussels thinks could be used to give British companies an unfair advantage.
This remains a fundamental clash, and is probably the most difficult sticking point.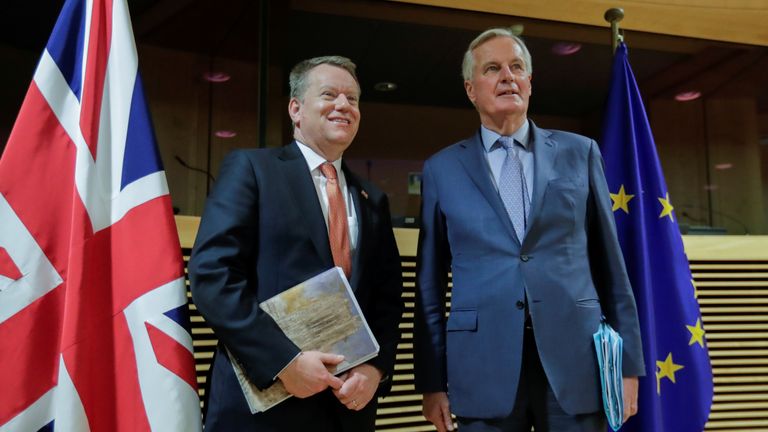 The second is about access to British coastal waters. Symbolically, this is important but economically it isn't – the British fishing industry has a turnover that is less than Harrod's department store.
Faced against that is more than two-thirds of EU members aren't affected by rules on fishing in British waters, and, as one diplomat said to me, they "profoundly don't care".
But before we assume that the fishing nations will eventually have to accept a massive cut in access in order to get the deal passed by the end of the year, a note of caution: Any agreement will have to be ratified by every EU member. If the Danes, for instance, feel their fishing industry has been hobbled, they could stymie the whole thing.
The tectonic plates are moving, though. It sounds like progress has been made on the question of governance, particularly how to resolve future disputes.
Britain has always bridled at the thought of being controlled by the European Court of Justice and now the EU seems to have taken that on board.