The chief regulator of Ofqual is standing down following the controversy over the awarding of A-levels.
Sally Collier has decided that the "next stage of the awarding process would be better overseen by new leadership", the body said in a statement on Tuesday.
:: Coronavirus latest news: Keep up-to-date with COVID-19 developments around the world
Ms Collier will temporarily be replaced in her role by her predecessor Dame Glenys Stacey, who will be Ofqual's acting chief regulator until December.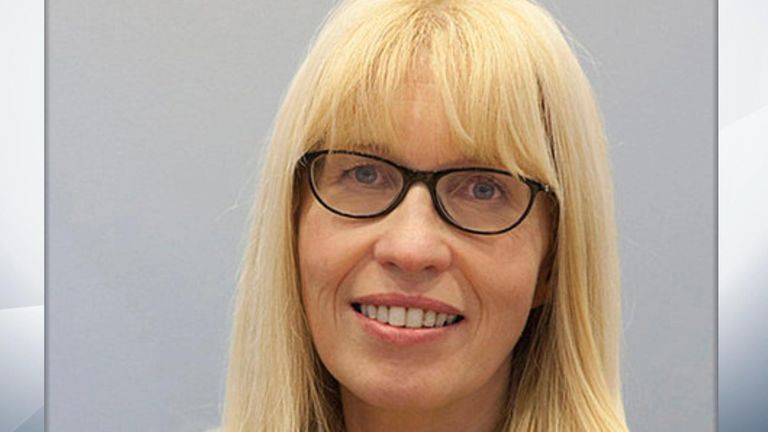 Ofqual was fiercely criticised after a "moderation" algorithm it designed meant around 280,000 students in England saw their A-level grades fall by one grade or more from their predicted results.
The regulator's algorithm, used following the cancellation of this year's exams due to the coronavirus pandemic, was claimed to have disproportionately penalised students from schools in disadvantaged communities.
And Ofqual faced further anger over its handling of the appeals process for students who wished to challenge their results.
Following the controversy, Ofqual and the government then performed a U-turn by ditching the algorithm and announcing A-level and GCSE students would instead be handed exam grades as predicted by their teachers.
As part of the Ofqual leadership changes announced on Tuesday, Amanda Spielman – Ofsted's chief inspector of schools – has also been drafted in to help oversee Ofqual's work until the end of the year.
Ofsted's routine inspection work currently remains suspended due to the coronavirus pandemic.
:: Listen to the Daily podcast on Apple Podcasts, Google Podcasts, Spotify, Spreaker
The Ofqual statement said: "The Ofqual board has agreed temporary support arrangements with Ofsted to support the ongoing work on this summer's GCSE, A-level and vocational qualifications, including appeals and autumn exams, and preparations for next year's exam season.
"The chief regulator, Sally Collier, has decided that the next stage of the awarding process would be better overseen by new leadership.
"The Ofqual board supports Sally in this decision, and thanks her for her leadership and service over the past four years, which has included overseeing the successful introduction of an entirely new set of GCSEs and A-levels, and a new grading system."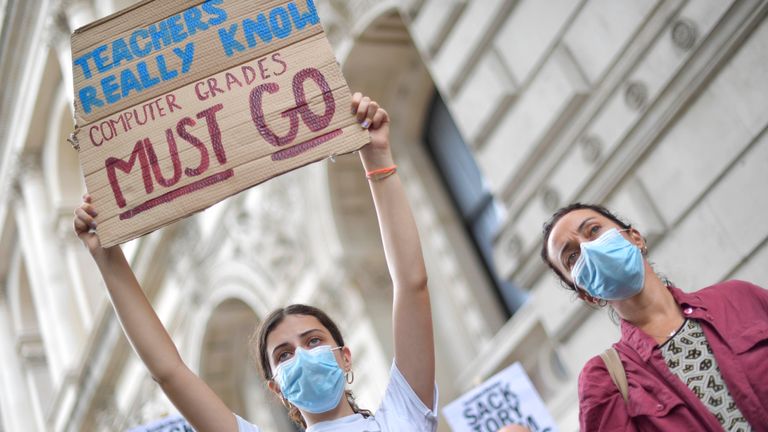 The statement added: "If required, Ofsted will also provide additional staff to support Ofqual during the autumn, as they have been supporting other government departments through the summer.
"Taken together these arrangements will ensure that Ofqual has the extra capacity, support and oversight it needs both to tackle the remaining issues from this year's awarding process and to ensure that next year's arrangements command public confidence."
Education Secretary Gavin Williamson, who himself faced calls to quit over the A-levels controversy, thanked Ms Collier "for the commitment she has shown to the role over the last four years and wish her well for the future".
"I welcome Ofqual's announcement that Dame Glenys Stacey is to assume a temporary leadership role as acting chief regulator and also the new internal governance arrangements put in place with Ofsted support," he added.
"This will make sure Ofqual can fully focus on the important functions it must deliver as the independent regulator for qualifications, examinations and assessments in England.
"Moving forward, my department will continue to work closely with Ofqual's leadership to deliver fair results and exams for young people."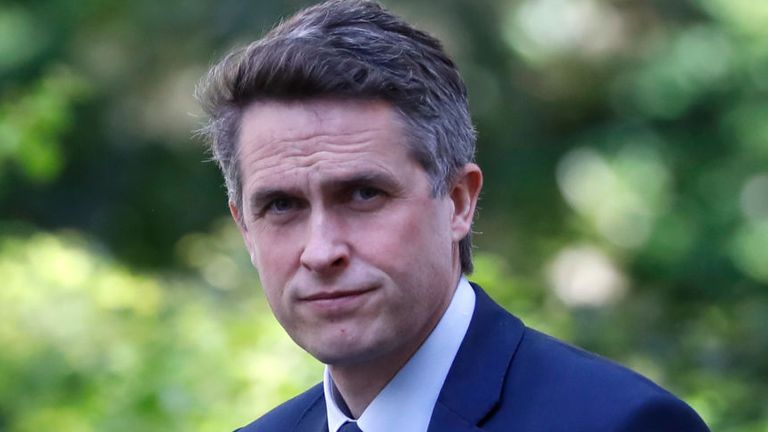 Mr Williamson has refused to comment on reports he offered his resignation to Prime Minister Boris Johnson but had it turned down.
Following Ms Collier's resignation, Liberal Democrat education spokesperson Layla Moran accused Mr Williamson of having "let someone else take the blame".