A number of chains and independent restaurants will continue to offer 50% off food when the government's Eat Out to Help Out scheme ends.
More than 64 million meals have been claimed since the scheme was introduced to help the struggling hospitality industry during the coronavirus pandemic.
Diners have enjoyed a state-funded 50% discount on food and soft drinks on Mondays, Tuesdays and Wednesdays in August, up to a maximum of £10 per person.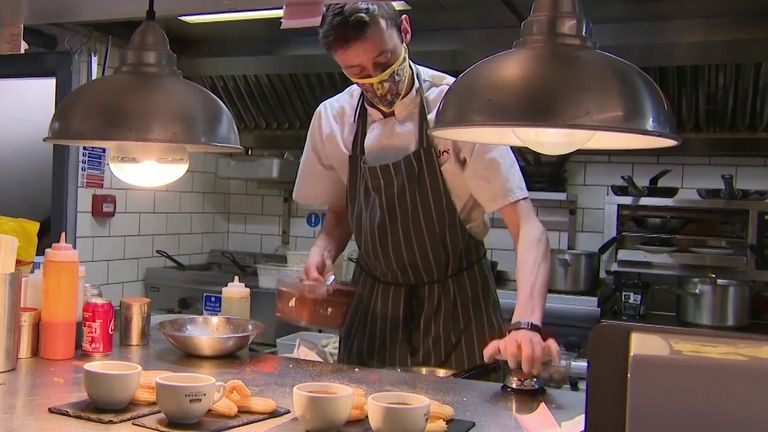 Both independent businesses and larger chains are among more than 72,000 establishments to have taken part, including Zizzi, Pizza Express, Nando's, McDonald's, and Bill's.
The Federation of Small Businesses (FSB) has called on the government to extend the scheme, which started on 3 August and runs to the end of the month, into September.
The federation's chairman Mike Cherry said: "The Eat Out to Help Out scheme has been an overwhelming success in getting people back on their high streets and in their town centres.
"We now need to see it extended to continue the critical support that it is providing for small firms as we enter a period of economic make or break.
"Over the past few weeks, the scheme has been hugely welcomed by small businesses and their customers alike.
"A nationwide one-month extension would go some way to helping many firms which are still only just about managing in this time of crisis."
The government has not announced an extension of the scheme, but some outlets have said they will continue to offer the price-reduction.
Here are some of the restaurants that will continue the discount:
Toby Carvery is offering a 50% discount on main meals only until 9 September
True North Brew Co, which runs 12 venues across Yorkshire, will keep offering the discount until 30 September
Harvester is offering a 50% discount on main meals only until 9 September
Stonehouse Pizza & Carvery is offering a 50% discount on main meals only until 9 September
The Coconut Tree, a Sri Lankan food chain with venues across the UK, is extending the deal throughout September
56 North, a bar in restaurant in Edinburgh, has decided to continue offering the discount on food into September
Peru Perdu, a Peruvian-inspired restaurant in Manchester, has said it will continue offering the 50% discount throughout September
Craft Dining Room, led by renowned chef Andrew Sheridan in Birmingham, will be offering the discount on Wednesdays and Thursdays throughout September
SIX, a skyline bar and restaurant in Cambridge, will continue offering the discount throughout September
Harleys Smokehouse, a barbecue restaurant in Staffordshire, will continue offering the discount in September