Travellers from mainland Portugal and parts of Greece will have to isolate when arriving in Wales but not England.
The two nations made different decisions at the weekly point when their quarantine lists are normally updated.
There was speculation about what would happen to Portugal given COVID-19 cases there rose to 23 per 100,000 people in the seven days up to Wednesday – up from 15.3 a week earlier.
The UK government generally says countries where the figure is higher than 20 per 100,000 are at risk of being added to the list.
Areas anyone travelling to from Wales must quarantine from 4am on Friday:
Portugal – excluding the Azores and Madeira islands
Gibraltar
French Polynesia
Greek islands of Mykonos, Zakynthos, Lesvos, Paros, Antiparos and Crete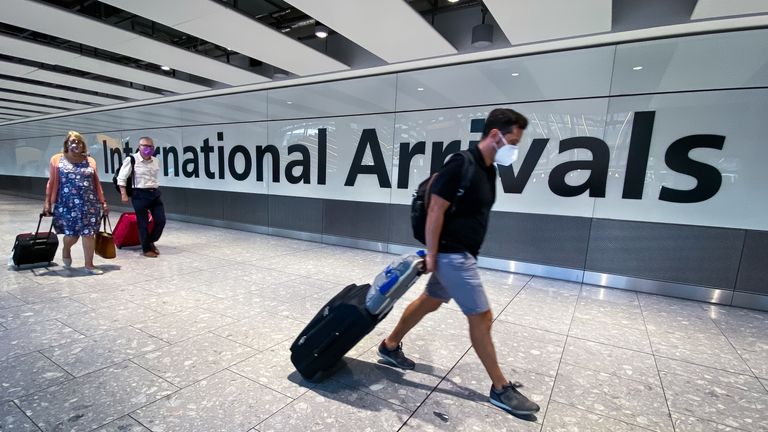 Transport Secretary Grant Shapps, who has responsibility for England only, tweeted the quarantine list is kept "under constant review" and he would not "hesitate to remove countries if needed".
But he added "there are no English additions or removals today", though reminded holidaymakers that destinations exempt from quarantine "can and do change at very short notice".
Holidaymakers in Portugal were scrambling to get home this week.
British Airways flight prices jumped to more than £500 for Thursday, and EasyJet sold out all its flights from Faro to airports in Britain for Wednesday, Thursday and Friday.
Scotland added Greece to its quarantine list earlier today due to a notable number of "imported cases".
Portugal was originally left off the list of so-called "travel corridors" where people could arrive from without needing to quarantine, when the policy was brought in in June.
It was only added to the safe list a few weeks ago – on 22 August.