House prices have reached a new record high after bouncing back from falls earlier this year with the biggest rise since 2004 last month, according to figures from Nationwide.
Prices rose by 2% in August compared to the previous month or 3.7% compared to a year ago, adding to evidence of a rapid recovery after coronavirus lockdown restrictions were eased.
The figures came as house builder Barratt Homes reported a 46% slump in profits to £492m for the year to the end of June, which it blamed on "unprecedented disruption to sales".
But it said it was now seeing "very strong consumer demand", with forward sales in more recent weeks ahead of the same time last year.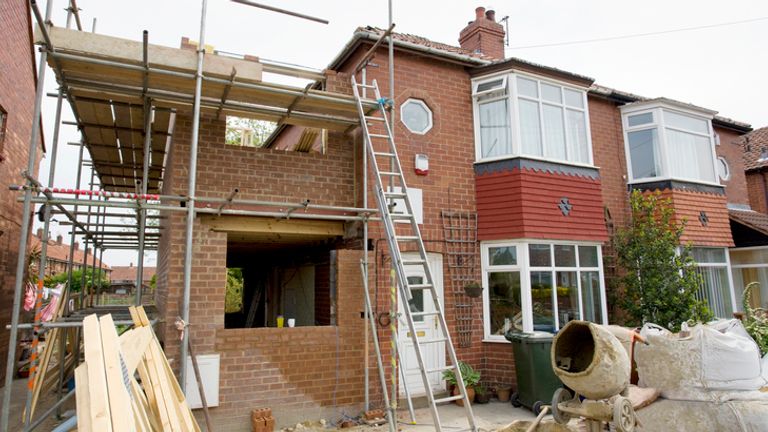 The average house price now stands at £224,123, according to the Nationwide index. The monthly rise of 2% was the largest since February 2004.
Nationwide's chief economist Robert Gardner said: "House prices have now reversed the losses recorded in May and June and are at a new all-time high.
"The bounce back in prices reflects the unexpectedly rapid recovery in housing market activity since the easing of lockdown restrictions."
Mr Gardner cited a number of factors, including the release of pent-up demand after the lockdown, as well as people reassessing where they want to live after being forced to stay at home.
He added that social distancing "does not appear to be having as much of a chilling effect as we might have feared".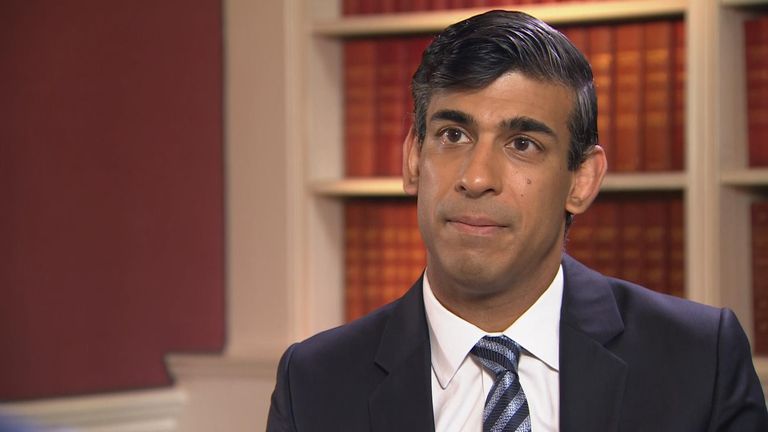 Barratt cited similar factors as well as a stamp duty holiday announced in July to explain its most recent upturn, with shares up 7%.
But it also warned of uncertainty over the full economic impact of the pandemic, as well as negotiations over Britain's departure from the EU.
Howard Archer, chief economic adviser to the EY ITEM Club, said a further pick-up in housing market activity and prices was likely, but that this would be limited "due to challenging fundamentals for consumers".
"The EY ITEM Club suspects that the housing market is likely to come under pressure over the final months of 2020 and start of 2021 due to a significant rise in unemployment," he said.
"There is also likely to be a fading of the pent-up demand effect."
</div>
<div class="sdc-site-layout__col sdc-site-layout__col2″></div>
</div>
</div>
<div class="sdc-site-outbrain sdc-site-outbrain–AR_3″>
<div class="OUTBRAIN" data-src="https://news.sky.com/story/house-prices-bounce-back-to-new-all-time-high-says-nationwide-12061493″ data-widget-id="AR_3″ data-ob-template="skynews"></div>
<script src="//widgets.outbrain.com/outbrain.js" async="true"></script>
</div>
</div>
<div class="sdc-news-footer" data-component-name="sdc-news-footer">
<div class="sdc-news-footer__wrapper">
<div class="sdc-news-footer__row">
<ul class="sdc-news-footer__list sdc-news-footer__list–social">
<li class="sdc-news-footer__list-item">
<a href="https://www.facebook.com/skynews" target="_blank" class="sdc-news-footer__list-link sdc-news-footer__list-link–facebook"><span class="sdc-news-footer__list-link-icon"><svg xmlns='http://www.w3.org/2000/svg' viewBox='0 0 384 384′><path d='M283.232 207.471l8.248-64.043h-63.428v-40.888c0-18.549 5.187-31.183 31.758-31.183l33.896-.021v-57.272c-5.846-.784-25.956-2.531-49.408-2.531-48.9 0-82.357 29.861-82.357 84.668v47.227h-55.311v64.043h55.312v164.332h66.113v-164.332h55.177z'/></svg></span>Facebook</a>
</li>
<li class="sdc-news-footer__list-item">
<a href="https://twitter.com/SkyNews" target="_blank" class="sdc-news-footer__list-link sdc-news-footer__list-link–twitter"><span class="sdc-news-footer__list-link-icon"><svg xmlns='http://www.w3.org/2000/svg' viewBox='0 0 384 384′><path d='M373.461 78.398c-13.228 5.859-27.444 9.833-42.363 11.612 15.234-9.125 26.916-23.587 32.425-40.803-14.245 8.448-30.029 14.59-46.823 17.893-13.455-14.329-32.631-23.283-53.84-23.283-40.723 0-73.74 33.01-73.74 73.747 0 5.775.651 11.4 1.908 16.802-61.301-3.068-115.639-32.435-152.018-77.051-6.336 10.888-9.983 23.555-9.983 37.079 0 25.583 13.022 48.153 32.812 61.384-12.092-.388-23.459-3.702-33.409-9.235v.938c0 35.731 25.419 65.535 59.154 72.307-6.186 1.687-12.7 2.586-19.428 2.586-4.746 0-9.375-.453-13.876-1.326 9.39 29.297 36.621 50.625 68.896 51.228-25.243 19.783-57.037 31.565-91.593 31.565-5.955 0-11.825-.352-17.593-1.024 32.637 20.926 71.403 33.127 113.053 33.127 135.654 0 209.834-112.375 209.834-209.837 0-3.186-.08-6.372-.22-9.536 14.413-10.4 26.916-23.382 36.804-38.173z'/></svg></span>Twitter</a>
</li>
<li class="sdc-news-footer__list-item">
<a href="https://www.youtube.com/user/skynews" target="_blank" class="sdc-news-footer__list-link sdc-news-footer__list-link–youtube"><span class="sdc-news-footer__list-link-icon"><svg xmlns='http://www.w3.org/2000/svg' viewBox='0 0 384 384′><path d='M368.449,119.707c0,0-3.527-24.891-14.355-35.848c-13.734-14.379-29.121-14.449-36.188-15.293c-50.531-3.656-126.328-3.656-126.328-3.656h-0.152c0,0-75.809,0-126.34,3.656c-7.055,0.844-22.441,0.914-36.188,15.293c-10.816,10.957-14.344,35.848-14.344,35.848s-3.609,29.215-3.609,58.441v27.398c0,29.215,3.609,58.441,3.609,58.441s3.527,24.891,14.344,35.848c13.746,14.379,31.781,13.922,39.82,15.434c28.887,2.766,122.777,3.633,122.777,3.633s75.879-0.117,126.41-3.773c7.066-0.844,22.453-0.914,36.188-15.293c10.828-10.957,14.355-35.848,14.355-35.848s3.609-29.227,3.609-58.441v-27.398C372.059,148.922,368.449,119.707,368.449,119.707 M154.219,238.746l-0.023-101.461l97.582,50.906L154.219,238.746z'/></svg></span>YouTube</a>
</li>
<li class="sdc-news-footer__list-item">
<a href="https://www.instagram.com/skynews/" target="_blank" class="sdc-news-footer__list-link sdc-news-footer__list-link–instagram"><span class="sdc-news-footer__list-link-icon"><svg xmlns='http://www.w3.org/2000/svg' viewBox='0 0 512 512′><linearGradient id='instagram-gradient' x1='100%' x2='0%' y1='3.3961%' y2='100%'><stop stop-color='#BB00B6 offset='0'/><stop stop-color='#CE007C' offset='.22779'/><stop stop-color='#F20000′ offset='.48415'/><stop stop-color='#FD6200′ offset='.70142'/><stop stop-color='#FFD700′ offset='1'/></linearGradient><path d='M256 46.1c68.4 0 76.5.3 103.4 1.5 25 1.1 38.5 5.3 47.5 8.8 11.9 4.6 20.5 10.2 29.4 19.1 9 9 14.5 17.5 19.2 29.4 3.5 9 7.7 22.6 8.8 47.5 1.2 27 1.5 35.1 1.5 103.4s-.3 76.5-1.5 103.4c-1.1 25-5.3 38.5-8.8 47.5-4.6 11.9-10.2 20.5-19.1 29.4-9 9-17.5 14.5-29.4 19.2-9 3.5-22.6 7.7-47.5 8.8-27 1.2-35.1 1.5-103.4 1.5s-76.5-.3-103.4-1.5c-25-1.1-38.5-5.3-47.5-8.8-11.9-4.6-20.5-10.2-29.4-19.1-9-9-14.5-17.5-19.2-29.4-3.5-9-7.7-22.6-8.8-47.5-1.2-27-1.5-35.1-1.5-103.4s.3-76.5 1.5-103.4c1.1-25 5.3-38.5 8.8-47.5 4.6-11.9 10.2-20.5 19.1-29.4 9-9 17.5-14.5 29.4-19.2 9-3.5 22.6-7.7 47.5-8.8 26.9-1.2 35-1.5 103.4-1.5M256 0c-69.5 0-78.2.3-105.5 1.5-27.2 1.2-45.9 5.6-62.1 11.9C71.5 20 57.2 28.7 43 43 28.7 57.2 20 71.5 13.4 88.3c-6.3 16.3-10.7 34.9-11.9 62.1C.3 177.8 0 186.5 0 256s.3 78.2 1.5 105.5c1.2 27.2 5.6 45.9 11.9 62.1C20 440.5 28.7 454.8 43 469c14.2 14.2 28.5 23 45.3 29.5 16.3 6.3 34.9 10.7 62.1 11.9 27.3 1.2 36 1.5 105.5 1.5s78.2-.3 105.5-1.5c27.2-1.2 45.9-5.6 62.1-11.9 16.8-6.5 31.1-15.3 45.3-29.5 14.2-14.2 23-28.5 29.5-45.3 6.3-16.3 10.7-34.9 11.9-62.1 1.2-27.3 1.5-36 1.5-105.5s-.3-78.2-1.5-105.5c-1.2-27.2-5.6-45.9-11.9-62.1-6.3-17-15-31.3-29.3-45.5-14.2-14.2-28.5-23-45.3-29.5-16.3-6.3-34.9-10.7-62.1-11.9C334.2.3 325.5 0 256 0z'/><path d='M256 124.5c-72.6 0-131.5 58.9-131.5 131.5S183.4 387.5 256 387.5 387.5 328.6 387.5 256 328.6 124.5 256 124.5zm0 216.8c-47.1 0-85.3-38.2-85.3-85.3 0-47.1 38.2-85.3 85.3-85.3 47.1 0 85.3 38.2 85.3 85.3 0 47.1-38.2 85.3-85.3 85.3z'/><circle cx='392.7′ cy='119.3′ r='30.7'/></svg></span>Instagram</a>
</li>
</ul>
</div>
<div class="sdc-news-footer__row sdc-news-footer__row–columns" role="navigation" aria-labelledby="footer-links">
<div class="sdc-news-footer__cell-wrap">
<div class="sdc-news-footer__cell sdc-news-footer__accordion" data-active-class="sdc-news-footer__accordion–active">
<h4 class="sdc-news-footer__heading">
About Sky News
<span class="sdc-news-footer__icon-down"><svg width='24' height='14' viewBox='0 0 24 14′ xmlns='http://www.w3.org/2000/svg'><title>Down</title><path d='M0 1.29c0 .12.022.227.067.323.044.097.09.167.133.21l11.08 11.06c.193.222.442.333.746.333s.552-.11.745-.333L23.74 1.936c.104-.104.167-.193.19-.267.022-.075.03-.164.022-.268-.008-.104-.056-.215-.145-.334l-.29-.423C23.31.408 23.096.23 22.874.11c-.06 0-.09-.014-.09-.043L22.762 0 11.927 10.858 1.068 0l-.11.11C.852.216.744.305.633.38.524.452.414.54.31.645.253.75.186.857.11.968c-.073.11-.11.22-.11.322z' /></svg></span>
</h4>
<ul class="sdc-news-footer__list">
<li class="sdc-news-footer__list-item">
<a href="/info/policies-and-standards" class="sdc-news-footer__list-link">About Us</a>
</li>
<li class="sdc-news-footer__list-item">
<a href="/info/sky-data" class="sdc-news-footer__list-link">Sky Data</a>
</li>
<li class="sdc-news-footer__list-item">
<a href="http://www.skynewsinternational.com" target="blank" class="sdc-news-footer__list-link">Sky News International</a>
</li>
<li class="sdc-news-footer__list-item">
<a href="/info/library-sales" class="sdc-news-footer__list-link">Sky News Library Sales</a>
</li>
<li class="sdc-news-footer__list-item">
<a href="/info/sitemap" class="sdc-news-footer__list-link">Site Map</a>
</li>
<li class="sdc-news-footer__list-item">
<a href="https://components.news.sky.com/files/editorial_guidelines.pdf" target="blank" class="sdc-news-footer__list-link">Editorial Guidelines</a>
</li>
<li class="sdc-news-footer__list-item">
<a href="/supreme-court-live" class="sdc-news-footer__list-link">Supreme Court Live</a>
</li>
<li class="sdc-news-footer__list-item">
<a href="https://components.news.sky.com/files/terms_of_reference_of_the_sky_news_board.pdf" target="blank" class="sdc-news-footer__list-link">Sky News Board</a>
</li>
</ul>
</div>
<div class="sdc-news-footer__cell sdc-news-footer__accordion" data-active-class="sdc-news-footer__accordion–active">
<h4 class="sdc-news-footer__heading">
Sky News Services
<span class="sdc-news-footer__icon-down"><svg width='24' height='14' viewBox='0 0 24 14′ xmlns='http://www.w3.org/2000/svg'><title>Down</title><path d='M0 1.29c0 .12.022.227.067.323.044.097.09.167.133.21l11.08 11.06c.193.222.442.333.746.333s.552-.11.745-.333L23.74 1.936c.104-.104.167-.193.19-.267.022-.075.03-.164.022-.268-.008-.104-.056-.215-.145-.334l-.29-.423C23.31.408 23.096.23 22.874.11c-.06 0-.09-.014-.09-.043L22.762 0 11.927 10.858 1.068 0l-.11.11C.852.216.744.305.633.38.524.452.414.54.31.645.253.75.186.857.11.968c-.073.11-.11.22-.11.322z' /></svg></span>
</h4>
<ul class="sdc-news-footer__list">
<li class="sdc-news-footer__list-item">
<a href="/info/rss" class="sdc-news-footer__list-link">Sky News RSS</a>
</li>
<li class="sdc-news-footer__list-item">
<a href="/info/smartphones" class="sdc-news-footer__list-link">Sky News For Your Phone</a>
</li>
<li class="sdc-news-footer__list-item">
<a href="/info/radio" class="sdc-news-footer__list-link">Sky News Radio</a>
</li>
</ul>
</div>
<div class="sdc-news-footer__cell sdc-news-footer__accordion" data-active-class="sdc-news-footer__accordion–active">
<h4 class="sdc-news-footer__heading">
Sky Channels
<span class="sdc-news-footer__icon-down"><svg width='24' height='14' viewBox='0 0 24 14′ xmlns='http://www.w3.org/2000/svg'><title>Down</title><path d='M0 1.29c0 .12.022.227.067.323.044.097.09.167.133.21l11.08 11.06c.193.222.442.333.746.333s.552-.11.745-.333L23.74 1.936c.104-.104.167-.193.19-.267.022-.075.03-.164.022-.268-.008-.104-.056-.215-.145-.334l-.29-.423C23.31.408 23.096.23 22.874.11c-.06 0-.09-.014-.09-.043L22.762 0 11.927 10.858 1.068 0l-.11.11C.852.216.744.305.633.38.524.452.414.54.31.645.253.75.186.857.11.968c-.073.11-.11.22-.11.322z' /></svg></span>
</h4>
<ul class="sdc-news-footer__list">
<li class="sdc-news-footer__list-item">
<a href="https://www.sky.com/watch/channel/sky-one" target="blank" class="sdc-news-footer__list-link">Sky 1</a>
</li>
<li class="sdc-news-footer__list-item">
<a href="https://www.sky.com/watch/channel/sky-witness" target="blank" class="sdc-news-footer__list-link">Sky Witness</a>
</li>
<li class="sdc-news-footer__list-item">
<a href="https://www.sky.com/watch/channel/sky-atlantic" target="blank" class="sdc-news-footer__list-link">Sky Atlantic</a>
</li>
<li class="sdc-news-footer__list-item">
<a href="https://www.sky.com/watch/channel/sky-arts" target="blank" class="sdc-news-footer__list-link">Sky Arts</a>
</li>
<li class="sdc-news-footer__list-item">
<a href="https://www.sky.com/watch/channel/sky-cinema" target="blank" class="sdc-news-footer__list-link">Sky Cinema</a>
</li>
<li class="sdc-news-footer__list-item">
<a href="https://www.skysports.com" target="blank" class="sdc-news-footer__list-link">Sky Sports</a>
</li>
</ul>
</div>
<div class="sdc-news-footer__cell sdc-news-footer__accordion" data-active-class="sdc-news-footer__accordion–active">
<h4 class="sdc-news-footer__heading">
More Sky Sites
<span class="sdc-news-footer__icon-down"><svg width='24' height='14' viewBox='0 0 24 14′ xmlns='http://www.w3.org/2000/svg'><title>Down</title><path d='M0 1.29c0 .12.022.227.067.323.044.097.09.167.133.21l11.08 11.06c.193.222.442.333.746.333s.552-.11.745-.333L23.74 1.936c.104-.104.167-.193.19-.267.022-.075.03-.164.022-.268-.008-.104-.056-.215-.145-.334l-.29-.423C23.31.408 23.096.23 22.874.11c-.06 0-.09-.014-.09-.043L22.762 0 11.927 10.858 1.068 0l-.11.11C.852.216.744.305.633.38.524.452.414.54.31.645.253.75.186.857.11.968c-.073.11-.11.22-.11.322z' /></svg></span>
</h4>
<ul class="sdc-news-footer__list">
<li class="sdc-news-footer__list-item">
<a href="https://www.nowtv.com" target="blank" class="sdc-news-footer__list-link">NOW TV</a>
</li>
<li class="sdc-news-footer__list-item">
<a href="https://skyoceanrescue.com" target="blank" class="sdc-news-footer__list-link">Sky Ocean Rescue</a>
</li>
<li class="sdc-news-footer__list-item">
<a href="https://www.skyacademystudios.com" target="blank" class="sdc-news-footer__list-link">Sky Academy Studios</a>
</li>
<li class="sdc-news-footer__list-item">
<a href="https://www.skygroup.sky/corporate/bigger-picture" target="blank" class="sdc-news-footer__list-link">Bigger Picture</a>
</li>
<li class="sdc-news-footer__list-item">
<a href="https://www.skygroup.sky/corporate" target="blank" class="sdc-news-footer__list-link">Sky Corporate</a>
</li>
<li class="sdc-news-footer__list-item">
<a href="https://m.skybet.com" target="blank" class="sdc-news-footer__list-link">Sky Bet</a>
</li>
<li class="sdc-news-footer__list-item">
<a href="https://www.sky.com" target="blank" class="sdc-news-footer__list-link">Sky.com</a>
</li>
<li class="sdc-news-footer__list-item">
<a href="https://www.skynewsarabia.com" target="blank" class="sdc-news-footer__list-link">Sky News Arabia</a>
</li>
<li class="sdc-news-footer__list-item">
<a href="https://www.skymedia.co.uk/?utm_source&#x3D;Sky%20News&amp;amp;utm_medium&#x3D;Web%20page&amp;amp;utm_content&#x3D;Sky%20News%20web%20page&amp;amp;utm_campaign&#x3D;Sky%20News%20web%20page" target="blank" class="sdc-news-footer__list-link">Advertise With Us</a>
</li>
</ul>
</div>
</div>
</div>
<div class="sdc-news-footer__row">
<ul class="sdc-news-footer__list sdc-news-footer__list–horizontal sdc-news-footer__list–legal">
<li class="sdc-news-footer__list-item sdc-news-footer__list-item–legal">
<a href="https://www.sky.com/help/articles/skycom-terms-and-conditions" target="blank" class="sdc-news-footer__list-link">Terms &amp; Conditions</a>
</li>
<li class="sdc-news-footer__list-item sdc-news-footer__list-item–legal">
<a href="https://www.sky.com/help/articles/sky-privacy-and-cookies-notice" target="blank" class="sdc-news-footer__list-link">Privacy &amp; Cookies</a>
</li>
<li class="sdc-news-footer__list-item sdc-news-footer__list-item–legal">
<a href="#privacy-options" class="sdc-news-footer__list-link">Privacy Options</a>
</li>
<li class="sdc-news-footer__list-item sdc-news-footer__list-item–legal">
<a href="https://accessibility.sky.com/" target="blank" class="sdc-news-footer__list-link">Accessibility</a>
</li>
<li class="sdc-news-footer__list-item sdc-news-footer__list-item–legal">
<a href="/info/contact-us" class="sdc-news-footer__list-link">Contact Us</a>
</li>
</ul>
<p class="sdc-news-footer__list-logo">
<a href="//www.sky.com" class="sdc-news-footer__list-logo-link" target="_blank"><img src="/resources/sky-spectrum-logo.png" alt="Sky logo" class="sdc-news-footer__list-logo-image"></a> <span class="sdc-news-footer__list-copyright">&copy; 2020 Sky UK</span>
</p>
</div>
</div>
</div>
<script src="/js/vendor/require.2.3.2.min.js"></script>
<script>requirejs.config({"baseUrl":"/","paths":{"site-main":"js/min/site-main-1421c9a84eab96f801cbeb7a5473ac6c","component-loader":"js/min/component-loader-b1be6d2d880b371a6ef7d6dcdcde98c6″,"lazy-images":"js/min/lazy-images-383a8ae829306a258266a31eb20f4c5f","sdc-article-body":"js/min/sdc-article-body-53867cff9621edfdaaf170faad400fbc","sdc-article-gallery":"js/min/sdc-article-gallery-5eb433f84ac5da8ff214295c1a77a025″,"sdc-article-image-grid":"js/min/sdc-article-image-grid-3bff6cde9a34b157ca6fb7006b9f5bc2″,"sdc-article-liveblog":"js/min/sdc-article-liveblog-fc9e96a462eead749bd78aa4192ccb21″,"sdc-article-video":"js/min/sdc-article-video-02afd049f3e58a72b515d79e05cfd326″,"sdc-site-video":"js/min/sdc-site-video-dd13fac4dd49b1ac0ec4f33ea482d9cc","sdc-site-cookie-notice":"js/min/sdc-site-cookie-notice-9fad239af1825b109efaae1fbb9b8aab","sdc-site-countdown-timer":"js/min/sdc-site-countdown-timer-49222f32a86cddd2fab3c3a634da4742″,"sdc-site-header":"js/min/sdc-site-header-63ca75738fc800f5cbf18f604c4e8984″,"sdc-site-hero":"js/min/sdc-site-hero-ac7c5237213bdf64bddd8c63f8f107a6″,"sdc-site-layout":"js/min/sdc-site-layout-58fb9f05fa3c374d868d839be6b8b449″,"sdc-site-load-more":"js/min/sdc-site-load-more-279e8ab88a3af33d453830965242b79b","sdc-site-localnav":"js/min/sdc-site-localnav-707a5acf73e755fcb5cb40cd8ef5e75d","sdc-site-mpu":"js/min/sdc-site-mpu-14749dc1b898a7375d0b441526c4711c","sdc-news-footer":"js/min/sdc-news-footer-b66ce8ebc58c6cdb366da9403cb61456″,"sdc-interactive-hot-spots":"js/min/sdc-interactive-hot-spots-792f524e1eece59c2228863cb01757ac","sdc-site-charts":"js/min/sdc-site-charts-6760aec7ca1fb35574792936822e5aad","sdc-article-strapline":"js/min/sdc-article-strapline-86edef27e248b17b6f35b77bf88b1f9e","sdc-timeline-node":"js/min/sdc-timeline-node-d8e7499a513cf622b64e9675c544ecb1″,"sdc-site-consent-management":"js/min/sdc-site-consent-management-8b4e976832b3a5e1067f2ddb83b16504″}});</script>
<script>
if(window.isModernBrowser){
requirejs(['site-main'], function(page){
page.init();
});
}
</script>
<script src="https://analytics.global.sky.com/sky-tags/news/prod/sky-tags-without-adobe.min.js" async></script>
<script>
!function(){var e=window.skyTags=window.skyTags||{};e.queue=e.queue||[],e.snippetVersion="1.0″,e.emitter=e.emitter||{registry:{},on:function(e,i){var s=this.registry,t=s[e];t?s[e].push:s[e]=[i]}},e.queue.push(["init"])}();
(function(){
skyTags.queue.push(['set', {"application":{"name":"Sky News","environment":"production"},"page":{"tags":[{"name":"section","value":"Business"},{"name":"topic","value":"Housing"}],"name":"House prices bounce back to new all-time high, says Nationwide","breadcrumb":["Business","House prices bounce back to new all-time high, says Nationwide"],"article":{"id":"12061493″,"title":"House prices bounce back to new all-time high, says Nationwide","date":"Wednesday 2 September 2020 08:23, UK"},"type":"story"}}]);
var event = {
type: 'view'
};
skyTags.queue.push(['event', event], ['track']);
})();
</script>
<script>
window._sf_async_config={
uid: '34974',
domain: 'news.sky.com',
sections: 'type:article,Business, articleid:12061493',
authors: 'John-Paul Ford Rojas',
useCanonical: 'true'
};
window._sf_endpt = new Date().getTime();
var script = document.createElement('script');
script.src = document.location.protocol + '//static.chartbeat.com/js/chartbeat.js';
document.body.appendChild(script);
</script>
<script>
var _comscore = _comscore || [];
_comscore.push({ c1: "2", c2: "6035677" });
var cs = document.createElement("script"),
node = document.getElementsByTagName("script")[0],
useSSL = 'https:' === document.location.protocol;
cs.async = true;
cs.src = (useSSL ? "https://sb" : "http://b") + ".scorecardresearch.com/beacon.js";
node.parentNode.insertBefore(cs, node);
</script>
<noscript>
<img src="https://sb.scorecardresearch.com/p?c1=2&amp;c2=6035677&amp;cv=2.0&amp;cj=1″ alt=""/>
</noscript>
<script type="text/javascript">_satellite.pageBottom();</script>
<div data-component-name="sdc-site-consent-management"
data-campaign-id="2371″
data-privacy-manager-id="157602″
data-selector="a[href='#privacy-options']"
data-spv2="true">
</div>
<script>
if (document.querySelector('.article-elections-map-widget')) {
function receiveMessage(event)
{
if (event.data.resizeValue) {
document.querySelectorAll('.article-elections-map-widget').forEach(function (el) {
el.style.height = event.data.resizeValue + "px";
});
}
}
window.addEventListener("message", receiveMessage, false);
}
</script>
</body>
</html>